High quality workmanship

We place great emphasis on the quality and reliability of our work, as well as the importance of ensuring that you, the customer, are completely satisfied with your re-upholstery, furniture design or anything else you may need.

To that end, our designers use only the best materials, utilising the highest quality beech wood when crafting a bespoke piece of furniture, thoroughly checking that the joints and dowelling look as sleek as possible.

Getting started is quick and simple; for our initial consultation all we require are photographs or samples and dimensions, after which we can advise and assist with the design of your furniture.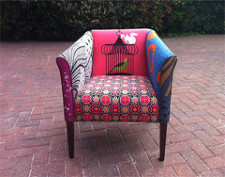 Who do we serve?

We are a family operated business, serving London, Essex, Hertfordshire and the surrounding counties in a 20 miles radius.

Our list of clients includes a major, nationwide department store as well as three five star hotels in Knightsbridge, West-End nightclubs and numerous other local clients.

We can help with any task, from re-upholstery to furniture design.
Get in touch today for re-upholstery, furniture design and everything in between.
01992 424 442